Christina Jansen photography: 'Time-Less' black and white
A new exhibition of photography in July 2015. (NOW CLOSED).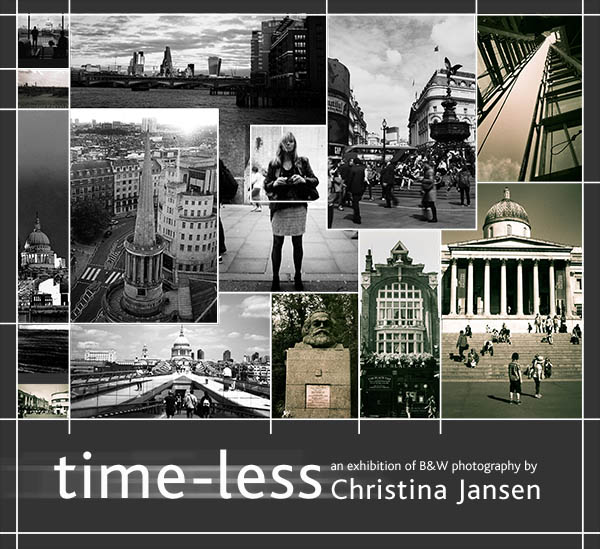 Summer in the City is the new Exhibition at
'Gallery Different' - It features many artists
including Christina Jansen and Chris Gollon.

Christina's 'Time-Less black and whites' a series
of monochrome images of London and the English
coast in Kent are a featured item.
Further enquiries please contact This email address is being protected from spambots. You need JavaScript enabled to view it.
"Time-Less" photography series by Christina Jansen
Professional Portrait/Corporate/Music Industry photographer
Christina Jansen recently began taking photographs using
a 1950's Olympus 35mm camera that had been left to her
by her highly respected Dutch photojournalist father.
She noticed the images had a retro look, as though they
were taken in the 50s or 60s, despite the modern clothing
worn and the clues in the more recent architecture.


Christina uses a limited supply of vintage BW Kodak film which also contributes to this retro feel. She has now taken
photographs around the country...in cities, country villages and stunning coastal towns. A unique beautiful set
of images has emerged forming the "Time-Less' series, all of them juxtaposing the old with the new.
Her works are available as limited edition prints or cards.
Below: Current gallery. A selection of images from the gallery below are featured at the exhibition
(please scroll down the page).

PLEASE WAIT FOR THE GALLERIES TO LOAD ON EACH PAGE SECTION.


---
Gallery One.

---

Gallery two.

---
Gallery three.